Flu Shots are Available!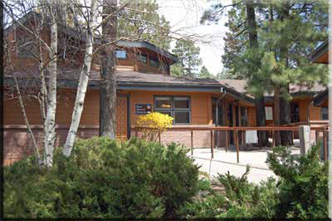 Ryan Internal Medicine is located two blocks west of Flagstaff Medical Center at 1350 Rim Drive in Flagstaff, Arizona.
Dr. Keith Ryan returned to Flagstaff, Arizona, to join Northern Arizona Medical Specialists (NAMS) in 1994 and practiced with that group for 12 years. After NAMS dissolved, Dr. Keith Ryan decided to remain in outpatient internal medicine and opened Ryan Internal Medicine in 2006.
We specialize in primary care for adults: providing wellness physicals, preventive medicine including diagnostic cardiology and treating chronic diseases like diabetes and asthma. Additionally we strive to take care of the whole patient and will coordinate the care you receive from other specialists.
We offer same day or next day appointments for sick and urgent appointments and are open 5 days a week, Monday through Friday. We are contracted with a variety of major insurance companies and are currently a Medicare provider.
Additionally, Ryan Internal Medicine has invested in and been using electronic medical records since 2008. This allows us to provide safe, confidential, legible care including electronic prescribing and web access. Using Patient Portal you can view record, balances, and lab results as well email requests for appointments, questions, etc.
Please take a minute and read more about the providers and staff as well as the services we provide here at Ryan Internal Medicine.
News
We would like to welcome Dr. Cindy Martin to our practice. She is board certified in Pediatric Medicine, Family Medicine, and Palliative Care. She has a strong presence in the community and will be seeing patients regularly at Ryan Internal Medicine.
We introdruce Dr. Sherrill Weller. She served as an Internal Medicine Physician for 20 years in the United States Navy. She is board certified in Internal Medicine and returns to Flagstaff with her husband.
F-Town Sound is playing First Friday on November 1, 2019, at Firecreek Coffee.